29 Sep

Supporting the Troops

You can take the boy out of Alabama, but you can't take the love of football out of the boy.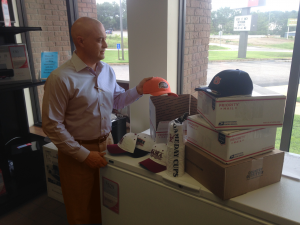 That was the case for Lt. Col. Jon Shultz and other members of the Alabama Air Guard 187th Fighter Wing from Montgomery, deployed to Bagram Air Base in Afghanistan. Schultz and his buddies recently made a request for spirit gear for the Alabama Crimson Tide and the Auburn Tigers. Members of the Alabama Power Service Organization (APSO) heard about the request, and responded.
Southeast/Farley APSO Chapter member Katie Thomas created an "Alabama/Auburn Support our Troops Drive." Enlisting help from Enterprise, Eufaula, Geneva, Headland, Ozark, Phenix City and Valley business offices, as well as Farley Nuclear Plant, Thomas said that about 20 employees helped with the project. The football spirit care packages included Alabama and Auburn University caps, T-shirts, pom-pom shakers, logo cups and koozies, and Tupperware. They also wrote several thank-you cards in gratitude of troops' service. Employees collected items for two weeks and mailed several boxes on Aug. 25. Thomas said the airmen aren't set to return until November.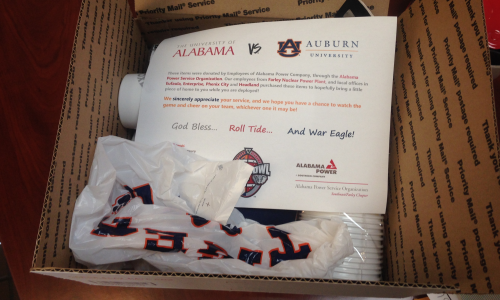 "They should be getting the packages any day now," said Thomas, merchandise salesperson – Appliance Sales, Enterprise. "We just wanted to give them a piece of home during their deployment. We hope they'll be able to watch the big Alabama-Auburn game on Nov. 29." APSO has supported the U.S. military with care packages for about seven years, and last year designed a greeting card with the American flag, to specially thank U.S. servicemen and -women.