09 Sep

Southern APSO members boost spirits, strength of Montgomery Cancer Center patients

By Donna Cope

There's nothing like a peanut butter cracker to calm those familiar rumblings of hunger.

So says Mary Southern. This, the 69-year-old knows this from experience, particularly after chemotherapy. Following her weekly visit to Montgomery Cancer Center for treatments of ovarian and lung cancer, Southern is nauseated after the one- to two-hour treatment and needs dry crackers to settle her stomach.

On a recent morning, Southern was happily surprised when a nurse offered her a snack. Southern quickly ate the peanut butter crackers, then saw a typed note: "Gift of Alabama Power Service Organization."

"Sometimes it's so early when I get there, and I don't get a chance to eat breakfast," said Southern, a Tallassee resident. "I love the snacks. I was touched by this."

So impressed was Southern by the thoughtfulness of people she'd never met, she hand-delivered a thank-you note to Alabama Power's Tallassee Office.

"I wanted to say thank you so much to Alabama Power," Southern said.

Providing help to those who need it

Members of the Alabama Power Service Organization (APSO) are always seeking ways in which to help others and make a positive impact on their communities, said Charitable Giving Specialist Tan Grayson.

"Our members are so caring," said Grayson, who has served as APSO coordinator since 2012. "This is just one of so many examples of how our employees serve and make life better for people, helping residents across Alabama."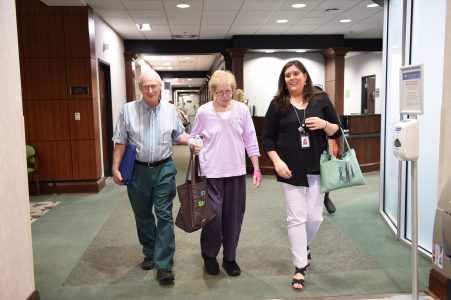 Hailey Frederick McElroy, Southern Division APSO's president last year, said the idea came naturally to her. About three years ago, McElroy was diagnosed, through genetic testing, with inherited immunoglobin G (IgG), an antibodies deficiency, an immune deficiency that allows individuals to more easily contract illnesses.
"It literally took me years to figure out what was wrong," said McElroy, the new mother of fraternal twin girls, Emma and Erin. "I'm 29, and I'd get pneumonia a couple of times a year."
McElroy began receiving monthly immunotherapy at theMontgomery Cancer Center, where she receives intravenous therapy administered over four to five hours.
"One day, as I sat there waiting for my name to be called, I couldn't help but notice the people around me," said McElroy, whose mother goes with her to treatments. "My heart sank as I looked around, seeing people much sicker than me – however, they still managed to smile through the pain. Some had family members by their side for support, but most sat alone, no one to talk to, no one to provide snacks or drinks when they got hungry, they were just alone. This saddened me immensely, I couldn't imagine being alone at a time like this."
Then, McElroy saw a nurse walk up with a snack basket, talking to each person.
"Their faces lit up, they were hungry and very appreciative of a snack or two," she said. "When the basket made its way to me, I reached in and grabbed a pack of crackers." McElroy noticed a sticker on the package that showed that the snack was donated by a church.
"A light immediately went off in my head: APSO!" she exclaimed. At the next Southern APSO board meeting, McElroy presented the snack-donation project for the Montgomery and Prattville cancer centers.
"We rallied around Hailey's idea," said Alabama Power Selma Office Supervisor Latonia Tisdale, 2016 president of Southern Division APSO. "Things that we think are so small mean the world to someone else. We decided to provide snacks for patients for one year. We've set up the project in each office, asking employees at each area for donations."
Montgomery Field Service Representative and APSO member Wendell Saxon went a step further, requesting a donation from a Wetumpka CVS Pharmacy, which provided 10 cases of bottled water.
"If a merchant or store wants to donate, that's even better," Tisdale said. "We're providing water, ginger ale, animal crackers and peanut butter crackers. Everybody's excited about it."
Southern APSO's Tallassee, Auburn, Clanton, Greenville and Fort Deposit sub-chapters all wanted to join the cause. For the remainder of the year, the offices will collect goods in their area and deliver them to the cancer centers.
"We touch so many lives by simply donating snacks and water," McElroy said. "Supporting people in their time of need is what APSO is all about, serving our community."
This story was originally published on Alabama NewsCenter.