16 Jun

Fight for fairness and justice, Stevenson tells Elevate conference attendees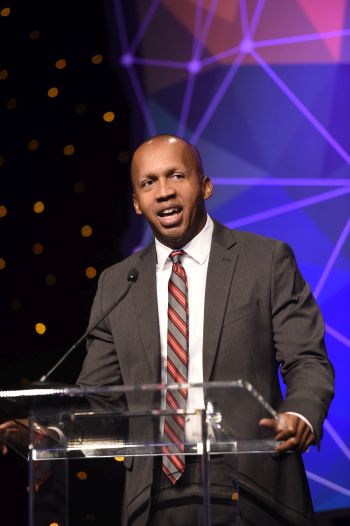 "I believe the opposite of poverty is not wealth. I believe the opposite of poverty is justice."
Few know more about the struggle to achieve justice than Bryan Stevenson, who spoke those words in a powerful keynote address Friday to Alabama Power's Elevate Conference.
Held in Birmingham on June 12, the third annual Elevate Conference brought together leaders of Alabama's nonprofit community to share best practices toward a shared vision of improving the health of Alabama's communities.
"I'm just so incredibly grateful for the work that you're doing across the state to bring issues to light that don't necessarily get the attention that they need," Stevenson said. "And that's what advocates do."
Stevenson, director of the Montgomery-based Equal Justice Initiative (EJI), has spent much of his career working to win freedom for those unjustly convicted by the criminal justice system.
Fighting for justice
One was Anthony Ray Hinton, a Death Row prisoner in Alabama for nearly 30 years who was finally freed in April.
"He lived in a five-by-seven cell. He was there during 53 executions," said Stevenson, 55. "He could smell the flesh burning."
In 2002, the EJI called in firearms experts who found that the revolver Hinton was accused of using could not be matched to the crime scene evidence. It took another 12 years for the U.S. Supreme Court to reverse Alabama's lower courts and order a new trial, after which a judge dismissed all charges.
"I think people were actually more afraid of being perceived as weak on crime than the possibility that they would execute an innocent person," said Stevenson. "And that narrative has to change."
Stevenson spoke about "changing the narrative" as one of five essential ingredients toward improving Alabama's communities. The others:
Establish an identity:  "I think the identity you create is essential to your ability to change the behaviors and aspirations of the people around you," he said. "There's power in identity."
Have proximity to the problems: "When you're distant, you miss the nuances and details around those problems," he said.
Be hopeful:  "I believe that injustice prevails where hopelessness persists," he said. "Hopefulness is the thing that will make you stand when everybody else is sitting, and speak when everybody else is quiet."
Be willing to do uncomfortable things: "The civil rights movement wasn't comfortable, it wasn't easy, it wasn't fun, it wasn't glorious. It was painful and difficult," said Stevenson, who grew up in a community with segregated schools. "We cannot create a better Alabama without some challenges, without putting ourselves in some uncomfortable spaces."
Hope for the future
Stevenson told the attendees that poverty will not be solved without addressing the structural legacy of racial inequality that perpetuates it.
"Truth and reconciliation" is needed, he said, chronicling his ongoing effort to enact historical markers to commemorate major slave trade locations and lynching sites in Alabama.
Stevenson, who peppered his speech with humorous stories from his childhood and career, expressed hope that the conference and its participants can make a real difference.
"I'm thrilled that you're taking time out of your busy careers to really collaborate and be in a space where you can think and talk about these critically important issues," he said.
While it's good to meet people and share ideas, Stevenson noted an even greater connection must be made.
"To get to a fairer place, to get to a healthier place, to get to a more just place," he said, "you've got to let the ideas in your mind be fueled by some conviction in your heart."
The Elevate Conference is supported by the Alabama Power Service Organization (APSO), with more than 5,000 employees who volunteer more than 50,000 hours annually in their communities.
Elevate Grants are provided by the Alabama Power Foundation, which has awarded more than $140 million since 1989 in various grants and scholarships. In 2015, 14 Elevate Grants worth $15,000 each are expected to be awarded, one more than in 2014.
After the speech
In an interview following the speech, Stevenson expanded on his thoughts about hope.
"I sit down with 12- and 13-year-old boys who tell me that they don't believe they're going to be free or alive by the time they're 21," he said. "They see all their friends and neighbors being arrested for drug dealing, sent away to prison for decades, and they don't see any other opportunities."
"So we've got to understand that we're not going to scare them into better behavior, we've actually got to motivate them, and that's where hope comes in," he added.
Stevenson also weighed in on the recent controversial police shootings across the nation, and reports that New York Police Department Commissioner Bill Bratton said hiring African-American police officers is difficult because "a very significant percentage" of black males have prison records.
"I cannot believe that if you are motivated and committed that you can't diversify police departments," he said. "I think that the police department more than any other department needs to recognize how important it is to have people who have maybe made some mistakes along the way but are now committed to preventing those mistakes from being made."
This story was first published on Alabama NewsCenter.