09 Jul

Eastern Energizers help restore Talladega's historic Knoxville Cemetery

By Donna Cope, Alabama NewsCenter

A small cross and a balloon nestled between undergrowth on a tiny, unmarked grave.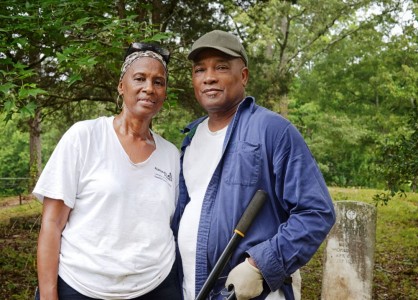 To some, the scene would be insignificant. But to Carrie Martin, seeing those tokens of remembrance for a small child – nearly obscured by knee-high grass – was a "galvanizing" moment. Stunned, she watched as the woman who placed the items left Knoxville Cemetery.
"Someone needs to get this place cleaned up. You don't even know the graves are there,'" Martin told her sister. They were visiting to clean the gravesides of their father, brother and great-grandmother, and to pay their respects.
"It just moved my heart so – it could have been my baby or my grandbaby. For all the weeds and underbrush, it didn't even look like a grave," said Martin, treasurer and board member for Eastern Division Energizers, one of 11 chapters of Alabama Power's retiree service organization.
That Saturday in April was the beginning of Martin's efforts to help clean and restore Knoxville Cemetery, also known to old-timers as Talladega-McMillan Cemetery. A historic African-American burial place dating to the 1800s, some graves belong to soldiers.
With so much work to be done and a huge need for community support, Martin wanted to get local families and city officials to invest their interest and sweat equity. Martin made appeals to the Talladega County Commission for help, and presented the project to Eastern Division Energizers board members, who offered their support – in both planning and manual labor.
This slideshow requires JavaScript.
Talladega City Councilman Jarvis Elston, Ward 2, worked behind the scenes, announcing the event during the city council's June 15 meeting. Unable to attend the cleanup because of a funeral, Talladega County Commissioner Kelvin Cunningham spent two hours cutting grass at the cemetery one evening. "I knew I couldn't be there, and I just wanted to do my part," Cunningham said.
On June 20, Eastern Division Energizers Randy Gann, Martin, and her husband, Raymond, joined other volunteers at the cemetery at 6:30 a.m. to clean the grounds. Well-armed to battle the overgrown plots, the team brought their own equipment: lawn mowers, weed eaters, rakes, shovels and other tools, as well as an old work truck to carry off debris.
It was indeed hard labor, as Martin mowed the grass and the group hacked away at trees and vines from 6:30 a.m. to noon. By lunchtime, heaps of refuse – brush, vines, weeds and tree limbs – lined Avenue H in Talladega.
A new view
The sight of newly cleaned burial plots – and the huge amount of debris removed – was satisfying to Martin, Gann and Elston.
"This cemetery is large, about 4 to 5 acres, I would guess," said Gann, who retired from Alabama Power as Contract Services manager for Power Delivery about three years ago. "For the most part, it's not had any cleanup work for many years. Some of the families have maintained their loved one's graves, but the majority of sites are neglected."
But that wasn't the end. On Saturday, June 27, the Martins and Elston were among 16 volunteers continuing the work. One resident, Curtis Morrow, was the first to arrive and the last to leave at both cleanups, Martin said.
"Curtis was so proud of the fact that they had not been able to find their grandmother's grave for years, and he was able to cut a path through the brush to reach it and get it clean," she said.
Talladega Mayor Larry Barton offered his thanks everyone who volunteered. Since the city of Talladega was incorporated in 1834, Barton said, "The cemetery could very well be older than that." He noted that, because the cemetery is located on private property, the city of Talladega is prohibited by state law from working on the land and could be prosecuted.
"I appreciate everyone who brought tools and water, and everyone who worked," Barton said. "It's a much-needed project; it's unfortunate that this cemetery has been neglected."
Elston asks volunteers to work on Saturday, July 11, from 7 a.m. to noon.
While much has been accomplished, Martin said that much more needs to be done. For Martin, who grew up in Talladega and now lives in Oxford, it's a matter of pride in one's community. Eastern Division Energizers have even discussed keeping flowers on all of the graves once the area is restored. She wants to ensure there will be ongoing maintenance.
"Once the community gets involved and takes pride, it will spread," Martin said. "This project came to me because of one simple little grave. We need to honor those who have gone on, to keep their resting place clean. I can't tell why it affected me so much. I couldn't shake it. My spirit would not rest until I did something."
This story was originally published on www.AlabamaNewsCenter.com.